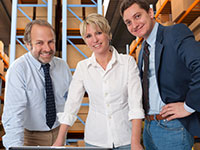 As a company dealing with Customs you may authorize a representative to present you in front of the customs administration, as well as taking of any action in the process, led by the Customs Administration in connection with import or export clearance of your shipments.
Customs procedure is very complicated administrative procedure that requires a competent and professional completion of customs documentation and submission of appropriate documentation.
It is very important to follow a number of rules that govern and applied in customs procedures. Given the penalties for mistakes which are suitable for the violations in the customs procedure is very important to leave this job to authorized, qualified personnel with long experience in dealing with these matter.
Our employees are able to provide high-quality and fast service import and export customs clearance and our work experience gives you the guarantee of quality and safety of the procedure was made in accordance with all regulations.
Our office is located at Zagreb Airport, and our foreign service will do for you clearance tat any Customs office in the city. Through our network of associates for you will do customs clearance at any branch in the Republic of Croatia and the accession to the EU in any member country. Our primary goal is to service our customers and business partners provide fast and efficient service from the moment when the shipment arrives at the customs up to delivery of shipments at final address.